Jordan Electric Violins
Base price $2280.
All models feature carved wood neck thru body, ebony fingerboard and nut, ebony button Schaller tuners, ebony Kaufman chinrest and firmly attached Kun shoulder rest. Individually preferred chinrest and/or shoulder rest may be substituted at no additional charge.
The Jordan Electric Violin standard four string model features maple neck thru body finished in a solid opaque color of your choice and choice of Starfish or Barbera Standard transducer bridge. Every aspect of the instrument is customizable, from the wood and finish to the number of strings, width of the neck, and color of the hardware. We can even build fretted violins! The options chosen will determine the final price of your instrument.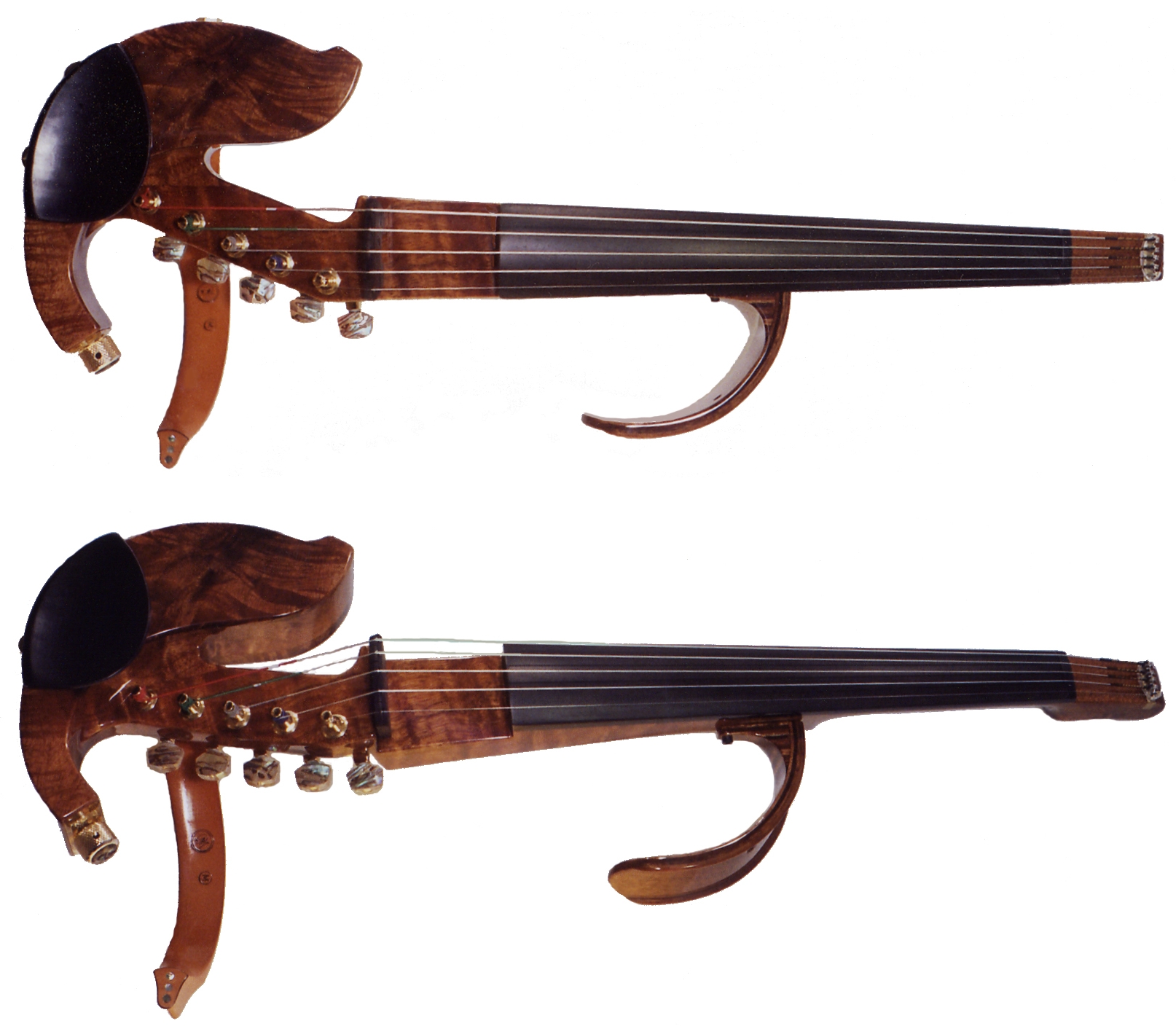 Wood and Finish Options
Pearlescent or metallic finishes - add $100
Lightly flamed maple with transparent finish - add $170
Heavily flamed maple with transparent finish - add $340
Exotic hardwood body - add $340 & up
Holoflash, or other custom finish - add $340 & up
Harlequin color shifting finishes - add $480
Gold plated metal hardware - add $160
BOWS
Any conventional bow can be used with our electric instruments. Often a player will choose a viola bow for the six or seven string violins as the additional weight will make it easier to play the very low pitches available on those instruments. For those players who are thinking of a modern bow to match with their new electric violin, we offer the full CodaBow line of graphite-fiber bows. These fine bows are available at special prices when purchased with our violins.
STRINGS
We highly recommend Super-Sensitive Sensicore Strings for our violins. Super-Sensitive makes the special low and high pitched strings for our extended range instruments and their standard pitch strings are also unsurpassed in quality. These will be the strings that come stock on your Jordan Violin and you can always order replacement sets from us.
AMPLIFICATION
There are many excellent choices of amplifiers that work well with electric violin. Most of the best choices are designed as acoustic instrument amplifiers as these have ultra-high impedance inputs that match ideally with the types of transducers used to sense the string vibrations, and they are designed for accurate sound reproduction. There are far too many brands and models to list all the possibilities, but here are some popular choices:
AER (many models to choose from including Alpha and AcoustCube IIa)
Trace Acoustic TA-100, TA-200 and TA-300.
CASES
Deluxe Oblong, Cordura cover, velvet interior, matching blanket, and four bow holders
Four String Case - add $160
Five, Six, or Seven String Case - add $380
Double Case - add $440